Shaping Spiritual Intelligence in a Baby: a Reflection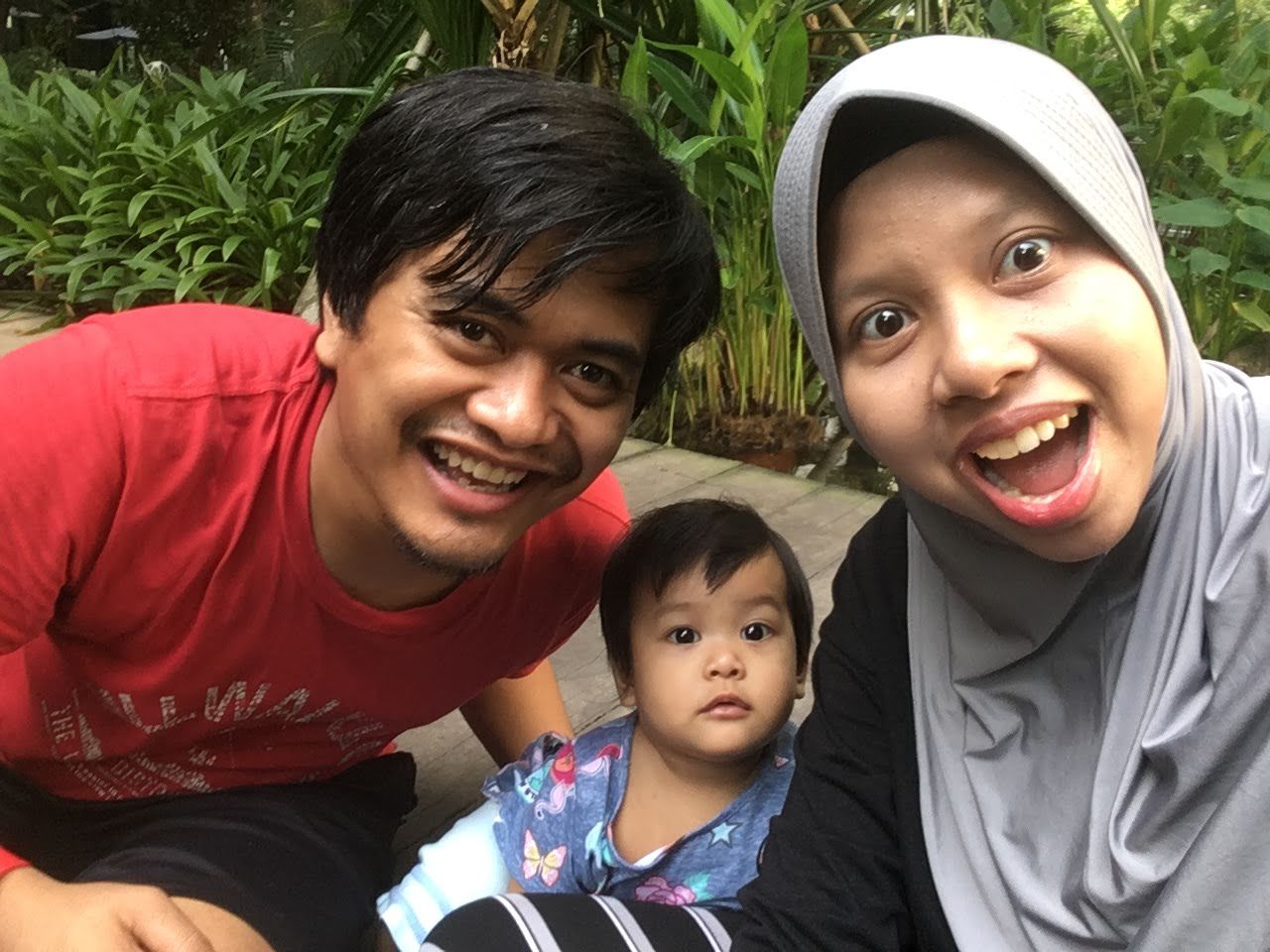 After productive communication and promoting independence, the next challenge in Bunda Sayang class is a family project that aims to increasing children's intelligence. From four areas of intelligence, I and my husband decided that we will concentrate on shaping spiritual intelligence for this period of time.
The Process
The family project involved the three of us: Papa, as the advisor; Mama as the program manager; and Alula (10 months old) as the person on duty hehe... The topic that we chose for the 10 days challenge is recognising Allah's creation. Sounds a lot of fun? It did!
What did we do? Basically we explore a lot of things. Most of the things were new for Alula, like seeing snail, playing with cats, feeding fishes, and many more. During the exploration, we emphasised the fact that they are Allah's creation. Allah is the most creator of all.
The Journals
To sum up the activities, here is the list of what we did day by day:
Day 1: Recognising God's Creation
Day 2: Reading Animal Story Book
Day 3: Playing with Cats
Day 4: Snail Obeys Allah
Day 5: Meet the Real Snail
Day 6: Strawberry Obeys Allah
Day 7: Exploring the Plants
Day 8: Allah Creates Strawberry
Day 9: Rain Rain (Don't) Go Away
Day 10: Feeding Fishes
What I Learned
Spend a lot more time exploring things as a family.
Through this project, we have more quality time as a family. We plan in advance of what activities we want to do in the next couple of days, and take a lot of picture for documentations. The documentation part is what we often miss, as we are busy taking care of the curious Alula.
2. Baby is catching up things very quickly.
To my surprise, Alula recognise things quickly. She remember how to call cats or pigeons. She excitedly points out to plants or flowers that we showed to her whenever we passed the plants.
3. Intelligence is something holistic.
While focusing on shaping spiritual intelligence, we notice that our activities of exploring animals, plants and nature are also boosting Alula's intellectual intelligence. Thus, we as parents need to think of more activities that covers all aspects of intelligence to do together as a family project.
The Challenge
Time constraints
As fun as it sounds, it needs much effort in documenting all activities, especially to a blog post. Currently, Alula is in the stage of mostly crawling (fast), occasionally standing, opening drawers, picking up everything she found and put it into her mouth. So, I literally can't take my eyes off of her.
Actually, there are some activities that we do everyday to shape Alula's spiritual intelligence, like praying together, reciting Al-Qur'an, pray before activities and so on. However, at the end of the day Mama only documented the activity highlight of the day.
2. Feedback
It would be so nice if Alula can give a feedback regarding this family project. Unfortunately, she can't speak yet. So, Mama can only guess her acceptance into ever project by her reactions and other non-verbal cues.
What Does Papa Say
After 10 days of challenge, this is what Papa thinks:
Would a child as young as Alula will understand about this faith introduction? We don't expect a deep understanding, but we are hoping to trigger her interest more to explore her surrounding. As she grow up hopefully the kid will make sense herself about the Belief in Allah, The Only God. But at this stage, the most important thing is, we are glad to see that Alula enjoying the discovery and many new things that she see, do and explore everyday. (Jon Kartago Lamida)
More of Papa's post can be found here.