Developing Early Math Skill: Having Fun with an Activity Table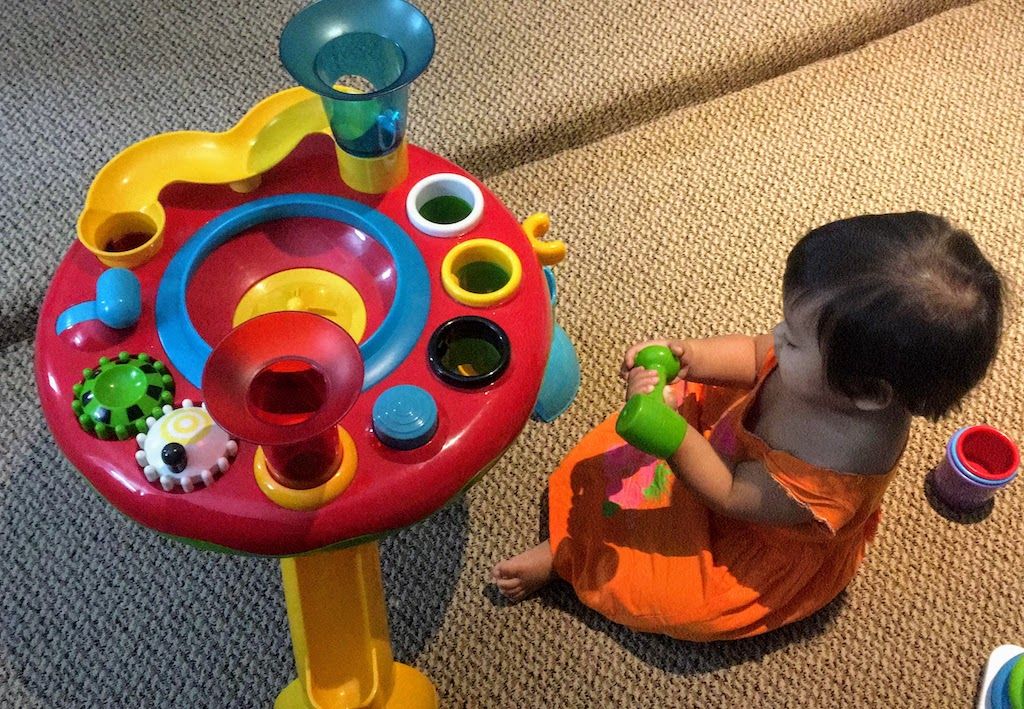 Today's activity involved an activity table. As we are currently staying in a hotel, our option is a bit limited. As usual, Mama would rent some toys for Lulu whenever we travel. So, this is it. This activity table will accompany us throughout our stay.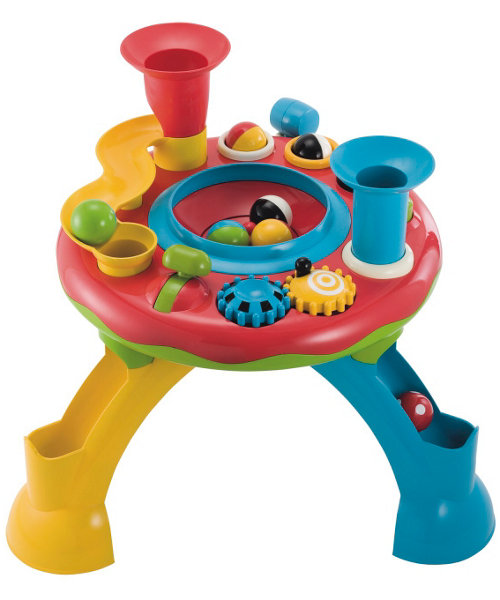 Pre-game: Introduction of Round Shape
Alula was excited as soon as I open the wrap of this toy. She waited patiently for me to set up the table and put all of the parts in place. This activity table comes with three colourful ball and a small hammer with it.
Before we started to play this, Mama introduced what the table has to Lulu. Mama started by introducing the balls. "This is a yellow ball. This is a blue ball. And this is a grey ball. They are round. The balls are round", I told Lulu while holding each ball. I handed over each ball to her while I mention each colour.
Lesson from this game:
Enhance vocabulary on colour
Introduction to round shape
Game 1: Hammer the ball
Alula seemed so interested and curious of what this toy have to offer. Well, because we don't own this toy, Mama also didn't know what features it has. So we kinda explored the toy together.
One of the features of this activity table is three holes that has a small obstacles in it. The obstacles is to hold the ball on the surface so that it doesn't easily drop. To drop the ball, Alula needed to hit the ball with the small rubber hammer.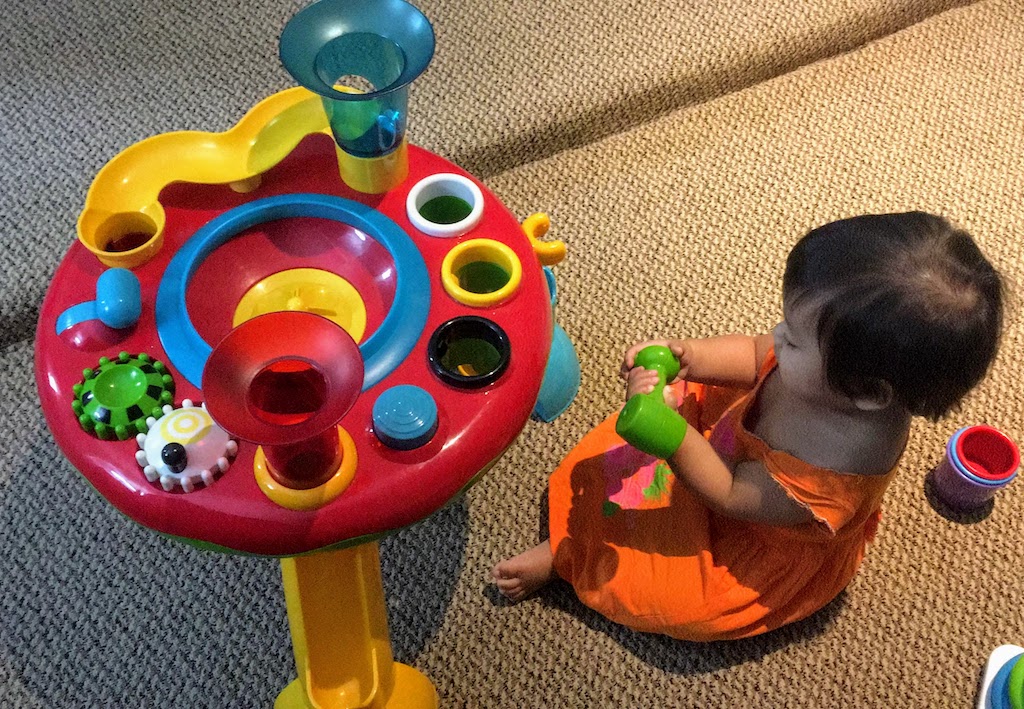 Mama placed each ball on the top of each hole. There are three in total. Each time Alula hammered, I will count, "One..". The first ball was down. "Great Lulu, hammer the next one!" "Two..", the second ball followed, and  "Three!", the last ball  was down too! Yeay! We clapped hands together.
Lesson from this game:
counting in sequence
hand-eye coordination
cause and effect
explorative play
exercising motor skills
Game 2: The Rolling Balls
The next feature of this table is a mini slide. It allows the ball to roll from a higher point into a point. At the end of the slide, there is a hole that leads to a short tunnel with an open base.
First of all, Mama showed Alula of what she can do with the balls and all of the feature. "Ok, Mama puts the ball on the funnel. It drop into the slide, rolled toward the hole, dropped into the tunnel and fell into the base." Lulu was so excited. This is new to her. We didn't have such toy back in our house.
Then, she took one ball and tried to do like what I did earlier. There you go, she put the ball in the funnel, the ball rolled and rolled until it reached the base. Yeaaayy! We clapped hands celebrating her success. I found a joy on her face.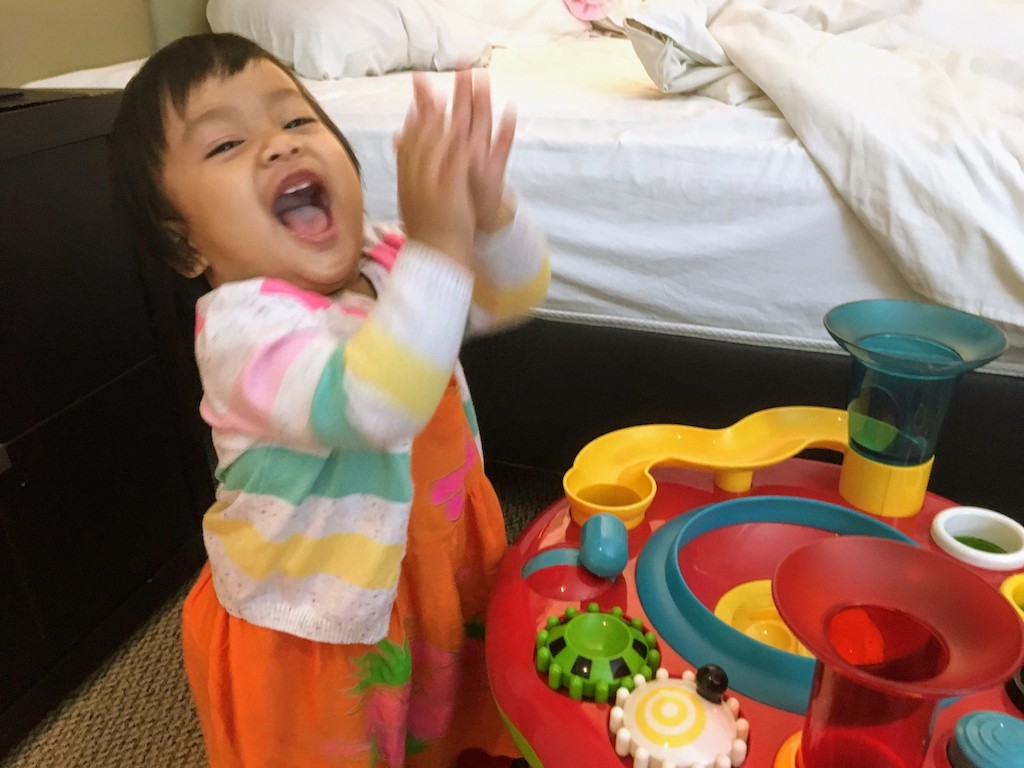 Lesson from these games:
sequence
hand-eye coordination
cause and effece
develop motor skills
encouraging Alula to stand and explore, exercising her balance.
watching the balls come zipping down the chutes gives Lulu plenty of practice at bending down and standing up again
discover cause and effect