Developing Children's Literacy: Family Reading Project Day 6
Weekends are our time for outdoor! This morning we walked around our neighbourhood. We did playgrounds hopping, tying some of neighbourhood playgrounds. After that, we headed for a breakfast in a foodcourt. In the afternoon, we went to a swimming complex with some friends. Alula and Papa were having fun splashing in the water. Done with the swimming, we went to a friend's place nearby to have dinner and play together. Alula had so much fun playing with friends.
We didn't have much time to read today. But, I did read a book briefly to Alula while she was having lunch this afternoon.
Alula's Read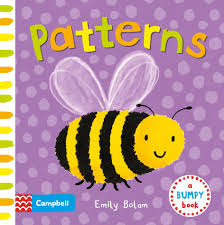 Title: Patterns
Author: Emily Bolam
Summary:
This is a simple board book with a bright and standout illustration. Each page displays one animal with its pattern on the other page. The book comes with an embossed print throughout which make it fun to read while touch and feel it. The patterns cover in this books are patches, stripes, spots, spiral and zig zag.
Alula's response:
Lulu is basically interested in patterns. She would pay attention closely whenever she sees patterns or art pieces. Reading this book gives her excitement as well as new knowledge, especially on how each pattern is called.