Developing Early Math Skill: A Day Out With Circles
It's day three away from home. Today Mama brought Alula out from the hotel to explore a nearby mall. We spent our day by having lunch, playing in a mini playground, and visiting Timezone.
It is so coincidence that today we happened to see many circles. That made Mama use this coincidence to be today's topic of introducing Math :D
Activity 1: Eating Out
We ordered meatball and rice cake for Lulu and set of fried chicken and sour soup for Mama. Lulu pointed at them as soon as the waitress bought a plate of rice cake into our table. The rice cake was cut into several circles. "Look! there are so many circles! Do you want to have these, Lu?". She replied, "Mamam, mamam..", her cue asking for a meal. I handed over the rice cake into her plate one by one. "One circle, two circle, three circle..". Lulu was amazed looking at them. Then I cut them into smaller pieces to make it easier for Lulu to chew and swallow.
Besides the rice cake, Lulu also had meatballs for her lunch. Just like the rice cake, I cut the meatballs into circle shapes and put them on Lulu's plate. "See, Mama has some other circles. This is meatball." She reached out to take one piece of meatball and brought it to her little mouth. Yum! It seemed that Lulu loves the meatballs as she finished all of the 7 pieces.
Finished with the meatballs and rice cake, she was still interested to Mama's food. Then I gave her a piece of corn to her to give a try. "Hmm.. Mama has a circle corn. Do you want to try?" To my surprise, she loved it too. She finished the corn until no kernels left.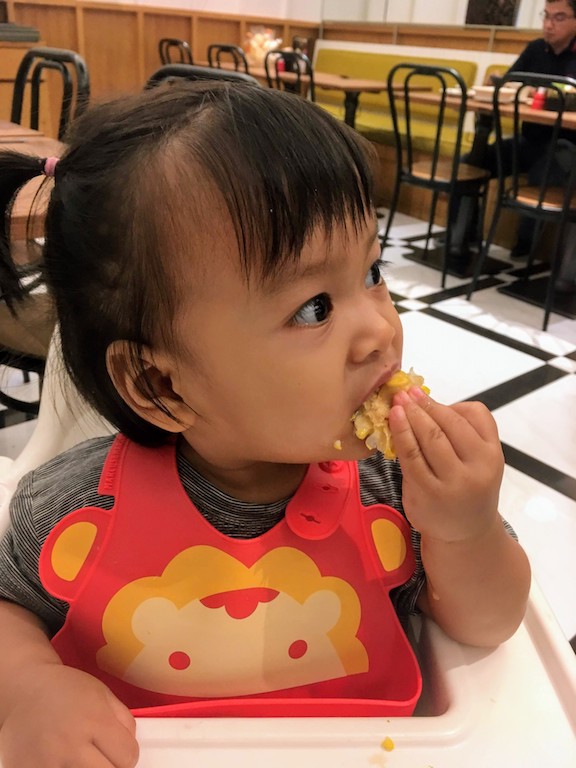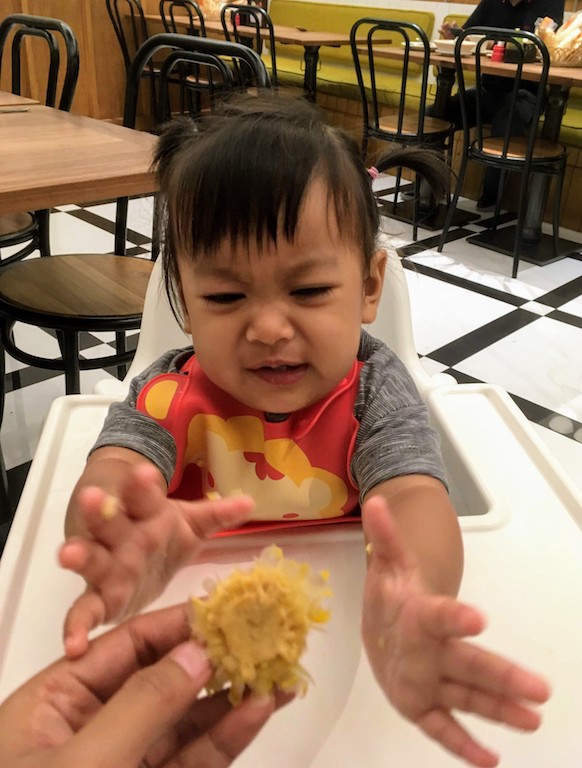 Lesson from this activity:
Alula learns a new shape from her food: circle
She practice her jaw by munching the food. Jaw exercise is really important for the next development phase, that is speech.
Develop motor skill
Eyes and hand coordination
Activity 2: Playground Time
After we had our lunch, I took Lulu into a mini playground just in front of the restaurant where we had our meal. Lulu was having fun as she could play with other kids. There is one slide with so many parts on it. While Alula was exploring the slide, Mama explains to her what's the shape and their colour. There are knobs, ladders, and textured surfaces in different colours. Like in the picture below, Lulu was keep pointing at the textured surface on top of the slide. She might remember the circle shape from our lunch: circle! This time, I told her that the on in then center is the smallest circle. The next one is bigger, the other one is even bigger circle and so on.
Apart from circle, Mama also taught Alula the concept of high and low. Well, slide is the perfect activity to introduce the concept and Mama just didn't want to waste the opportunity, hehe..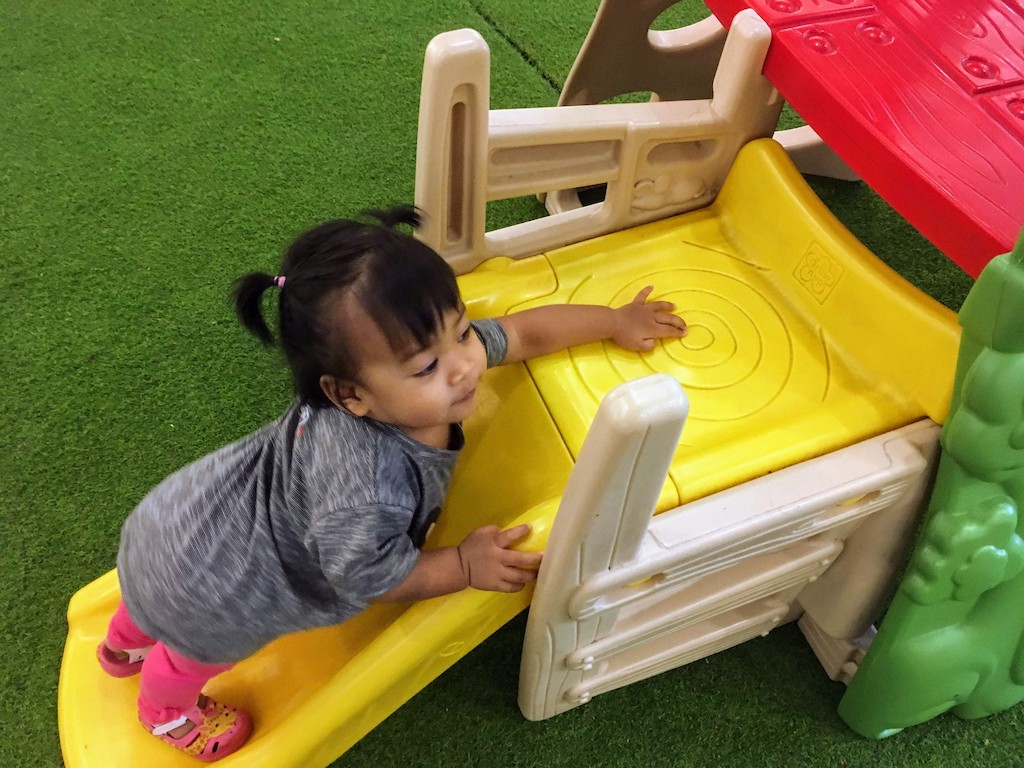 Lesson from this activity:
Exposure to colours and shapes
Understanding the concept of height
Develop motor skills
Exercise balance, stability and strength
Develop social skills through group plays
Activity 3: Timezone
The third activity is visiting Timezone. It was such a fun. Alula tried to play some rides. Thankfully even an offline machine already excites her, so Mama didn't have to pay for it, haha!
There are so many colours and shapes on the ride. Alula got to held onto circle wheels and pressed circle buttons. She was having a blast. This time she had a fun experience with the circles as she can press the button or turn the wheel left and right.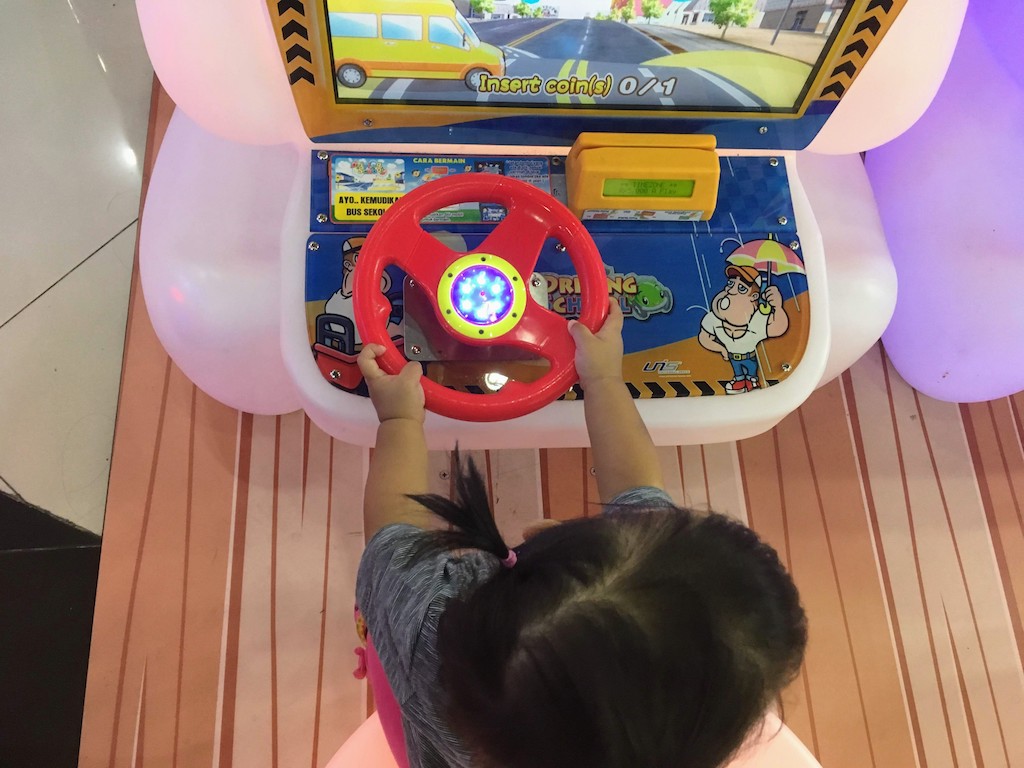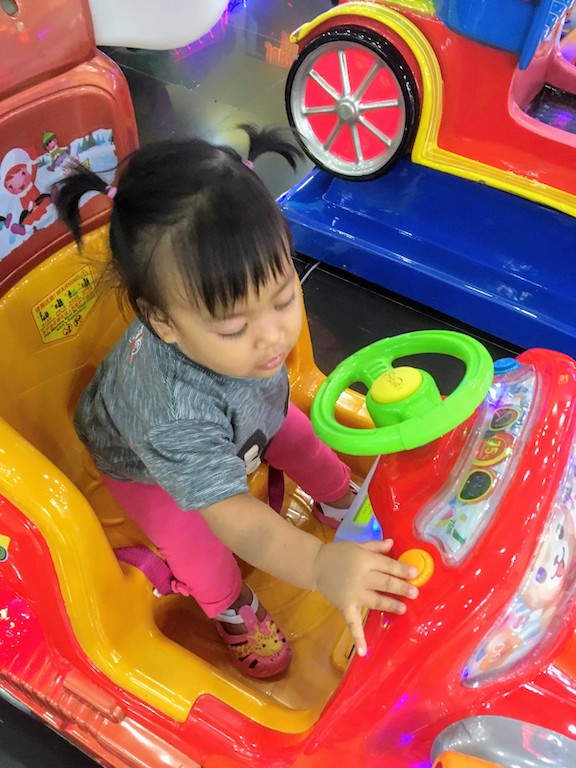 Lesson from this activity:
Exposure to shapes
Exposure to colours
Developing motor skill