Discovering Ability: Art and Sensory Play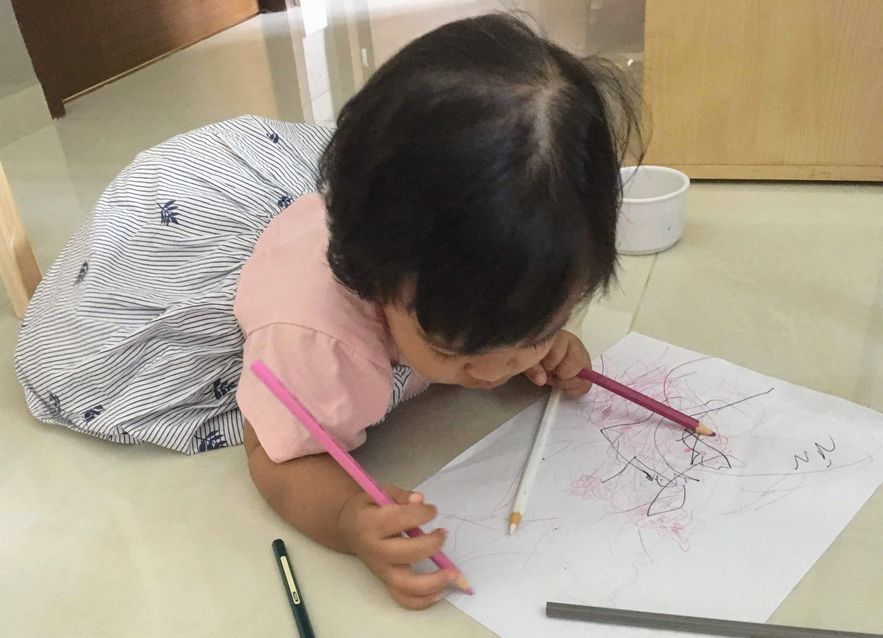 Today Alula had a fever. We didn't have a chance to go out, but we somehow managed to do few (hopefully) fun activities at home.
Even though she's a bit unwell, Lulu was as active as usual. She walked around the house, explored this and that. Yesterday, I made most of her toys and equipments accessible to her; toys are on the low shelves, colouring pencils and crayons are displayed openly.
Drawing
First thing in the morning, Lulu grabbed some of the coloured pencils and paper, put them on the floor and started drawing. Aha! Mama made an observations and quickly got the phone and made few shots :)
Later in the afternoon, she also drew on the white board using markers. As she saw pens or markers, she will ask adults next to her to open its cap for her, and she will instantly start to draw. In the evening, Lulu asked to sit on her workspace and start to draw again. Hmm.. it seems that she enjoys drawing so much.
In this activity, Alula exercises her pencil grip, hand and eye coordination, imagination and brush her art sense. As a side note on pencil grip, I just realised that the coloured pencil diameter is too small for a young toddler like Lulu. I should find pencils with a bigger diameter for easier grip.
Tactile Sensory
As the planned activity, Mama prepared a tactile sensory play for Lulu. Last week we got a good education toys when we visited Bangalore, that is called feel me and match me. The idea is to match the same texture with the corresponding spots. Lulu did well on placing the knobs on the right places. She made an attempt to feel the texture, but she hasn't showed interest or curious about different textures.
This game is good for tactile sensory exercise. On top of that, Lulu also practiced classification and patterning skills.